Eco
Eco
Welcome to our Eco Page
We have 12 Eco Warriors, 2 children from each class, they are assisted by Mrs Lowings our Eco Co-ordinator. The Eco Warriors meet regularly to discuss ways of improving our school and school grounds. They involve the whole school by giving class and whole school assemblies. This develops the children's knowledge and understanding of how they can make a difference to their environment. We follow the principles of the Eco Schools programme - please read about the exciting ways we are looking after our school and the wildlife within our grounds.
Bio diversity
Bio diversity is a topic that affects us all - insects, mammals, reptiles, trees and birds. All species, including humans, require a basic range of resources to keep them alive and healthy. We have a wonderful wildlife area with a pond, bug hotels, hedgehog shelters, bird boxes and feeders.
The children took part in the RSPB bird watch in January and sent in their results.
Energy
The children are aware that saving energy is good for our environment. Our children are encouraged to:
turn off lights when they leave the classroom
turn off projectors that are not being used
turn off laptops when not in use
Litter
We all look after our school and grounds by ensuring that any litter is picked up and put into a bin. Colourful bins are on the playground and the children use these when peeling their fruit. The children are always keen to use the brooms and litter pickers at play time to keep our grounds tidy.
Waste
We have recycling bins in every classroom and common rooms. The Eco Warriors empty these once a week with Mrs Lowings. We recycle used pens, printer ink cartridges and greetings cards. The Friends of the School, our fund raising parent support group, recycle donated school uniform. They sell second hand uniform at our regular fund raising events. Within our school grounds we have a compost bin that we use to recycle uneaten fruit and teabags.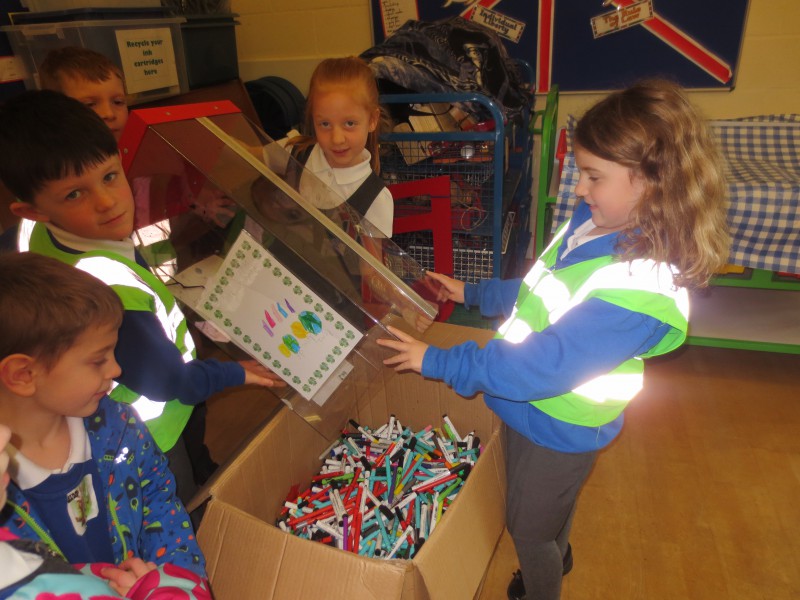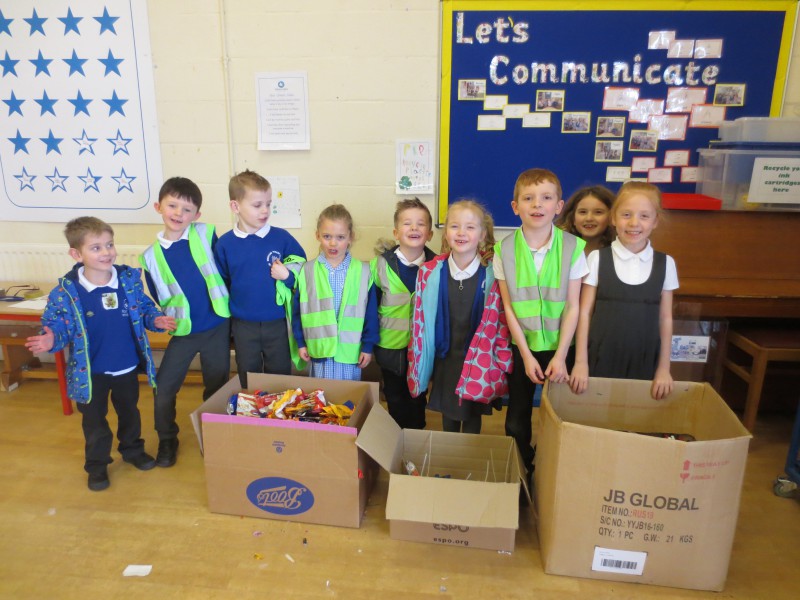 Transport
We have scooter and bike racks to encourage our children ride to school. We take part in the Walk to School Week challenge, this year it will be from 21-25 May 2018. We discuss with the children the health benefits of walking to/from school and how not using a car cuts air pollution.
Water
We save water by having senor operating taps in our toilets. We installed water hippos in our toilet cisterns to conserve water when flushing the toilets. We also conserve rain water by collecting it in water butts.
School Grounds
We have a sensory garden and wildlife area within our school grounds. We hold Eco evenings where pupils and their parents are invited to get involved with the up keep of these amazing assets to our school. We have our own greenhouse made from recycled plastic bottles.
Healthy Living
We teach how important diet and exercise are to having a healthy life. Fruit is provided for all the children in the mornings. We grow fruit and herbs in our sensory garden. We have an outside quiet area - somewhere to sit and relax at play times. There is a mindfulness club for children every Thursday lunch time.
Global Citizenship
We support Comic Relief by fund raising on Red Nose Day and show the children how their donations can change lives in other countries as well their own. We have raised funds for Sport Relief, The Lymphoma Association and Diabetes UK. The children have also taken part in the Christmas Shoebox Appeal by providing a Christmas box for children or teenagers less fortunate than themselves.
August 2018
| M | T | W | T | F | WE |
| --- | --- | --- | --- | --- | --- |
| | | 1 | 2 | 3 | 4 |
| 6 | 7 | 8 | 9 | 10 | 11 |
| 13 | 14 | 15 | 16 | 17 | 18 |
| 20 | 21 | 22 | 23 | 24 | 25 |
| 27 | 28 | 29 | 30 | 31 | |