2019/2020 What We've Been Doing - Spring Term
2019/2020 What We've Been Doing - Spring Term
Week Ending 20th March
Good morning,
Yesterday, Wednesday, you should have received a home study pack. Pupils who are already self-isolating can arrange for theirs to be collected through the office. Each pack contains learning activities to do with your child. This is learning that has been previously taught in school and we would be recapping over the next few weeks. Research suggests that the way children remember and recall learning is by practising it regularly.
In the pack you will find a login to Purple Mash. This hosts an assortment of curriculum focused activities, creative tools, programs and games to support and inspire creative learning every day. We will be setting up some 2Dos over the next few days. These should appear as alerts when your child logs on, but feel free to explore all the activities.
As well as the work in the pack, please access this page on the website regularly https://www.rmischool.co.uk/page.php?d=learning&p=intro
This gives a list of other ideas. Khan Academy is an excellent resource. They have also provided ideas for a daily timetable for home learning at https://docs.google.com/document/d/e/2PACX-1vSZhOdEPAWjUQpqDkVAlJrFwxxZ9Sa6zGOq0CNRms6Z7DZNq-tQWS3OhuVCUbh_-P-WmksHAzbsrk9d/pub#kix.mouk9zropavw
We will also be sending out regular maths and topic/English activity ideas through Tapestry. This will be our main point of communication during the school closure.
Regular maths challenges will include accessing the Topmarks website and completing a Daily 10 recap quiz. Please feel free to do these more frequently (and at a different level than recommended) if appropriate for your child. You may feel that your child is practising the same learning multiple times but research has shown that this is how learning sticks and the more practise the better. Children also get a great sense of satisfaction from this.
It is also important that your child has the opportunity to either read or listen to a story daily, as they would in school, to help with all elements of reading but especially to develop essential comprehension skills. A list of ideas for 'Parent Reading Questions' is available on the website.
Please also continue to practice reading and spelling the 'Year 1 common exception words' (the tick list included in the home study pack).
Children may also want to complete any unfinished challenges from their Autumn or Spring homework menu.
Thank you for your support. We will regularly be in contact during the school closure and please contact us via Tapestry if you have any questions or concerns.
Mrs Hindmarsh and Mrs Attwood
As we have been learning about Paddington and our topic next term is going to be "Around the world in 80 days" you may be interested in this resource from Unicef for your child.
There is a cost involved - it is an £8 per month donation to the Unicef charity. In return you receive a monthly named postcard as well as other resources including maps. There is no expectation at all from us for you to buy this, it is just a good resource to be aware of that links to our topic.
https://www.unicef.org.uk/paddingtons-postcards/
Week Ending 13th March
The children have all been fantastic today, Sport Relief 2020, taking part in so much physical activity and exercise.
We tasted lots of fruits and some vegetables. Many children tried avocados, peppers and mangoes even though they were not sure about them, discovering that they in fact liked them.
We danced, practised some mindfulness and learnt some cricket skills. I think they may all be a little tired tonight.
Thank you for your kind donations, we will hopefully have a total to share with you next week.
Geography - UK focus
We have been learning about the different countries in the UK and their capital cities. We have visited each country and spent a while thinking about their famous landmarks, any special or important facts - like the extinct volcanoes in Edinburgh or the fact that they say a giant is buried in Mount Snowdon and of course the tale of 'Nessy' the loch ness monster!
They have enjoyed learning about the different national flowers of each country and the different food items they might eat. They weren't too sure about the concept of Haggis and what it is made from! We have made the flags of different UK countries and the landmarks using different continuous provision resources.
Week Ending 6th March
This week we have lots of exciting activities planned around the author Michael Bond and his books about Paddington Bear. Thank you to all the children who have brought in books or objects related to Paddington Bear so far. Please continue to bring in any other items you have so we can share them with the class.
Beech class thoroughly enjoyed their visit to Bingham Library as part of our World Book Week.
On Thursday we will be making marmalade sandwiches and food tasting marmalade recipes as part of our celebration of Paddington books for Book Week.
This week we will also be learning about the countries and capital cities of the UK, with a special focus on London.
We have written postcards to Aunt Lucy from Paddington about his trip to London and some of the landmarks that he has seen.
Thank you to everyone for your wonderful wooden spoon and story stone characters! It was wonderful to have such a variety, all really well thought about.
Week Ending 28th February
This week the children have written diary entries from Samuel Pepys' perspective. What detailed diary entries and How neat their handwriting is!
Photos to follow.
In art, the children created their own artwork depicting The Great Fire of London. First, they had to identify warm and cold colours and then they created their own shades by colour mixing. Finally, the children added silhouette houses to capture the frightening scene of London Burning.
We also began looking at two famous composers, Vivaldi and Bach. Beech class enjoyed identifying the different instruments within the music and listening to how the piece of music 'Four Seasons' made them feel. We created a emotion picture to capture their thoughts and feelings throughout each season as the piece of music played. We learnt the song on BBC Radio Famous people by Vivaldi, which they really enjoyed. Especially, when we split into parts and created our own 'pretend' class string quartet.
Week Ending 14th February
This half term we have been focussing on gymnastics in P.E. We have been working towards creating a routine which involves a sequence of 5 movements. Including a start position, roll, jump, travelling and taking the weight on our hands. The children really enjoyed using the large apparatus to perform their sequences.
Science -
We completed a science investigation on 'What is the best material for a boat?'. Each table had a tray of water and a set of different objects. They needed to think carefully about what a boat needed to be able to do, be strong and be able to float.
We started off predicting what would be the best. The majority thought that the 'wood' would be the best material, this was mainly due to the links that they had made with their learning on the Great Fire of London.
We then carried out our investigation and recorded our findings for each material.
As a class, we concluded that 'hard plastic' was the best material out of the selection with wood coming in second place.
Beech class were very enthusiastic about a whole day of maths - NSPCC Numbers Day. We tried lots of different domino challenges, including a very tricky one involving placing 6 dominoes around a square to achieve the same total on each side.
A lot of teamwork was also involved in placing Numicon 1-6 in a triangle to achieve a total of 9 on each side. We found there were lots of different ways of doing this.
Week Ending 7th February
Year 1 were very enthusiastic about us celebrating World Maths Day on Friday 7th February. They enjoyed lots of problem solving challenges working as teams to beat the clock.
In topic we have continued to learn about the seasons. We are now in winter and were lucky enough to get outside on one frosty morning to experience the wintry weather. We have been learning about the signs of winter and hibernation and migration.
Tuesday's puzzle club has proved very popular. Our favourite puzzle challenge so far has been to work as a group to create a huge Numicon carpet jigsaw.
Week Ending 31st January
Last week we learnt that Samuel Pepys wrote a diary which gives us lots of information about the fire. Today we looked at lots of sources of evidence about the fire and matched it to statements eg. That people escaped in boats. Pupils had to match the statements to the evidence. There are lots of online stories and songs about the great fire if your child would like to continue learning at home.
Click [here] to find out more about The Great Fire of London
Week Ending 24th January
Today, Monday, was our third week of Drumba. Beech class have thoroughly enjoyed learning how to count a beat and keep a rhythm. Joining in with the songs has been their favourite part.
Last week in maths, we learnt how to compare numbers up to 20 using greater than, less than and the same as. This week we moved on to ordering numbers. First we practised this by building models to show the numbers and then drew pictures.
In science this week, we have been identifying and exploring a range of materials and asking ourselves these questions:
What are they made from?
What might they be used for?
How could we group them?
We have been learning about famous people in history since the fifteenth century. So far we have learned about Christopher Columbus, Henry VIII, Elizabeth I and now we are learning about Samuel Pepys and The Great Fire of London. We learnt that Samuel Pepys wrote a diary which gives us lots of information about the fire.
Click [here] to learn more about Samuel Pepys
Week Ending 17th January
This week we have been learning about the teen numbers (10-19). We have learnt how difficult their names are to say because you say the ones part first, and we have learnt how they are composed of 10 and a bit. You could ask your child to explain this to you as it would be good practice for them to explain to someone else.
Khan Academy has two good videos and practice activities for this. If you follow the link below it should take you straight there:
https://www.khanacademy.org/math/early-math/cc-early-math-place-value-topic/cc-early-math-teens/v/teens-and-ten
There is no need to register but it is free and if you want to use the site regularly (which I would highly recommend) then it remembers which units you have already done.
In maths, we then moved on to comparing teen numbers using the greater than and less than signs < > and equal to =. We had a go at filling in our own examples and then using bead strings to compare with our partners.
On our timeline through history - this week, we stopped off to visit Henry VIII and Elizabeth I. We learnt about what they enjoyed doing and why they are significant people of the past. We then had a go at learning our own Tudor style dance. We thought about how they would have walked and used their bodies. How they may have greeted one another.
Week Ending 10th January
Welcome back to school. We hope that you have all had a lovely Christmas and now we are looking forward to a happy and healthy 2020. The children have been eager to share what they have been doing over the Christmas holidays. It has been lovely to hear about the places they visited and the special people they have seen, as well as their favourite Christmas presents.
Please could you return all homework books this week. The children will be sharing their home learning from last term with their class and will be sending out a new homework grid on Friday. We will also be beginning to send home spellings every fortnight. The yellow homework books will also be used for spellings.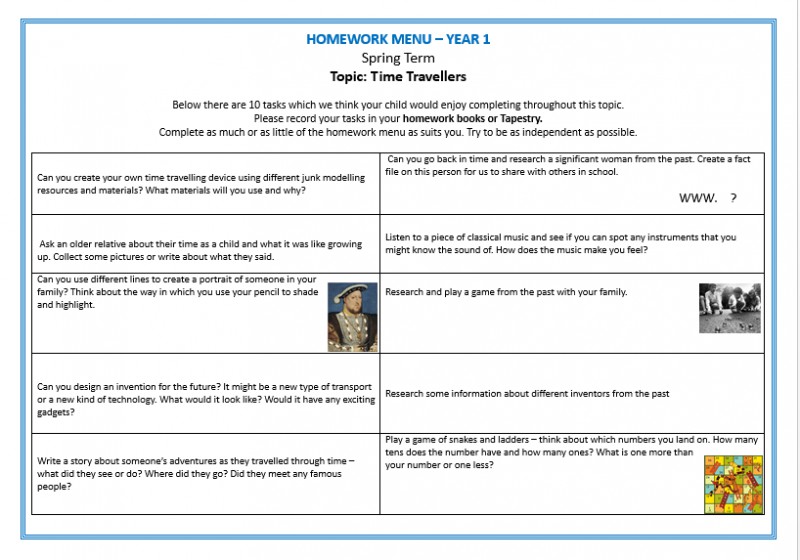 In history, we used our imaginations to travel back in time over 500 years to visit Christoper Columbus! We thought about questions that we would like to ask him and learnt about what it must have been like to be on his boats. We learnt a song to help us remember the facts about his journey. What fun we had using our bodies as percussion instruments!
Please click on the link below to learn and sing a song about Christopher Columbus.
April 2021
| M | T | W | T | F | WE |
| --- | --- | --- | --- | --- | --- |
| | | | 1 | 2 | 3 |
| 5 | 6 | 7 | 8 | 9 | 10 |
| 12 | 13 | 14 | 15 | 16 | 17 |
| 19 | 20 | 21 | 22 | 23 | 24 |
| 26 | 27 | 28 | 29 | 30 | |