2019/20 - Spring Term
2019/20 - Spring Term
Week Ending 20th March
As we close to the majority of pupils today, the staff team would like to say thank you for supporting us over the last week and would like to wish you all the best in the coming weeks.
Please look at our Home Learning pages to find information from your child's teacher.
https://www.rmischool.co.uk/page.php?d=learning&p=intro
Week Ending 13th March
What fun we have had this week! We learnt about how vets help our pets. We wrote questions to a veterinary nurse and she kindly gave us lots of information. We made some marvelous moving animals using split pins and some colourful pet masks..
In maths we created a tally chart showing all our favourite pets.
On Friday we really enjoyed participating in lots of different activities for Sport Relief.
Photos will follow of Maple Class enjoying our Sport Relief activities.
Week Ending 6th March
This year World Book Day is on Thursday 5th March 2020. To celebrate this we will be reading books by the author Eric Carle as well as incorporating lots of fun reading activities into the whole week. As part of our topic work we will be looking at the role of a librarian and how they help us. Our Role play area is set up as a library and we will be visiting the library in Bingham.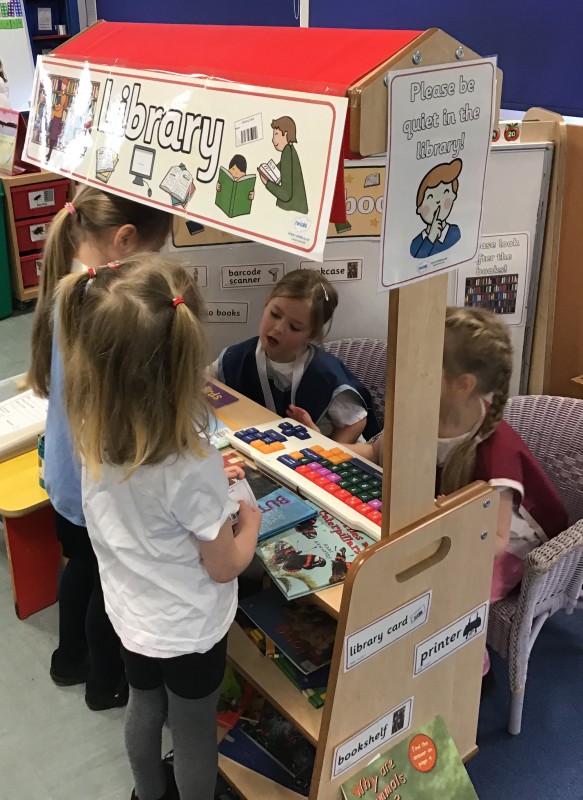 Click on the photos to enlarge and then use the left and right arrow keys to scroll through the gallery.
Maple Class visiting Bingham Library
Look at our amazing spoon and rock characters
Week Ending 28th February
Our new topic this term is "People Who Help Us". This week we have been learning about the roles of nurses and doctors and how they help us. We have been talking about how we can keep ourselves healthy by exercising and eating a balanced diet. The children sorted play food into different food groups and created healthy plates of food. We used our phonic knowledge to label body parts on a life size cut out child.
Week Ending 14th February
"What big eyes you have!" will tell you which book we have read this week. Yes of course it was Little Red Riding Hood.
We used this story to talk to the children about Stranger Danger and about keeping themselves safe.
We have explored the sounds of some musical instruments and experimented ways of changing the sounds that they made. We created our own musical story maps to imagine what a walk through a forest would be like.
In ICT we used the Beebots to follow a path through the forest to Granny's house.
We have been learning the importance of keeping healthy and ways in which we can do this. We tasted different fruits and used our senses to describe them.
Click on the photos to enlarge and then use the left and right arrow keys to scroll through the gallery.
Red Riding Hood
Week Ending 7th February
We read the story of The Three Billy Goats Gruff this week. We have enjoyed designing and then a building bridge for the three goats to cross.
We have used our phonic knowledge to write simple sentences to recount what happened in the story.
In maths, the children have shown their understanding of size by comparing then ordering objects. They then described how they had ordered the objects using the correct mathematical language.
On Tuesday it was Internet Safety Day so we talked to the children about how to stay safe on the internet.
Photos will follow
Week Ending 31st January
Our book this week was The Three Little Pigs.
Our science investigations have continued this week as we have been looking at different materials. In the story The Three Little Pigs had to build houses so we carried out experiments to find out which material was strongest? and which materials were waterproof?
The children have really enjoyed re-enacting this story. It was lovely to hear the expression in the children's voices when they were reciting the keywords said by each of the characters.
In maths we have been investigating 3D shapes and finding out whether all 3D shapes can roll.
Photos will follow
Week Ending 24th January
This week we have read The Gingerbread Man. We have baked, using utensils with increasing control, and decorated our very own delicious gingerbread men. Using scissors the children cut out and made paper gingerbread men with moving parts.
We carried out a science experiment to find out whether a gingerbread could swim. We thought about the story and asked ourselves why the Gingerbread Man didn't want to go into the water. We made predictions as to what would happen if a gingerbread man was put into water and thought about the following questions :
Will the gingerbread man get bigger or smaller?
Will the gingerbread man change colour?
Will he float or will he sink?
Will the gingerbread man dissolve?
We observed what happened to the gingerbread man and recorded our results explaining what we had seen.
In maths we used the story to learn about ordinal numbers - the characters chasing the Gingerbread Man.
Click on the photos to enlarge and then use the left and right arrow keys to scroll through the gallery.
Gingerbread Man
On Friday we learnt about how Chinese people celebrate their New Year (this weekend). The children got to eat some delicious cakes as part of our celebrations.
Click on the photos to enlarge and then use the left and right arrow keys to scroll through the gallery.
Chinese New Year - 25th January 2020
Week Ending 17th January
This week our learning has continued to focus around Goldilocks and The Three Bears. We have been exploring the story setting and sequencing pictures showing the story from beginning to end. The children have been using vocabulary such as first, then, and next to show awareness of time and order when retelling the story.
We made lolly stick puppets of all the characters and used them when we retold the story.
We had a class discussion about whether Goldilocks was right to go into the Bear's house.
Maple class gained confidence and really enjoyed this practical course. Please click on the link below to see a video.
Click on the photos to enlarge and then use the left and right arrow keys to scroll through the gallery.
Bike Ability photos
Week Ending 10th January
Welcome back we hope you all had a lovely Christmas and New Year.
Our theme this term is Once Upon a Time...
This week we read Goldilocks and The Three Bears. We are learning to retell familiar stories in our own words and describe a familiar character.
The children were very surprised to find a crime scene in their classroom when they returned from lunch. Detective skills were quickly put into practice and the culprit was found to be Mrs Jacques! The verdict is still out whether the damage was accidental or malicious. What do you think?
Crime scene photos
Further excitement was had when Goldilocks left us clues to rescue teddy.
What fun it was to sit in the "hot seat"! The children took turns to describe a familiar character to the rest of the class.
Our focus in maths this week was to share objects equally.
Photos will follow
April 2021
| M | T | W | T | F | WE |
| --- | --- | --- | --- | --- | --- |
| | | | 1 | 2 | 3 |
| 5 | 6 | 7 | 8 | 9 | 10 |
| 12 | 13 | 14 | 15 | 16 | 17 |
| 19 | 20 | 21 | 22 | 23 | 24 |
| 26 | 27 | 28 | 29 | 30 | |